'Resonator' Pete Townsend is more than a world class bass player! Endorsed by A.T.S., Pete is also an author – mainly of comic capers! Visit his website at http://petetownsend.co.uk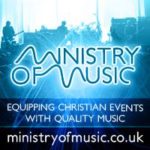 Booking agent for Trace Taylor and other Christian artists Ministry Of Music.
Click here or visit: https://ministryofmusic.co.uk/trace-taylor.
Left: "Flame CCR" broadcasts on 1521 kHz (medium wave) from South Wirral and covers most of Wirral, and beyond. Trace joins broadcaster Norman Polden for a regular 'fireside chat' on a Friday afternoon from 3pm. Head along to flameradio.org to hear and to find out what else is on the schedule amidst chatty banter and great music.
Right: Access Radio produce content that tackles important issues such as social action, poverty and education, amidst streaming the best in positive contemporary chart and CC music. The net result is quality media, addressing vital issues that won't have you reaching for the off switch.